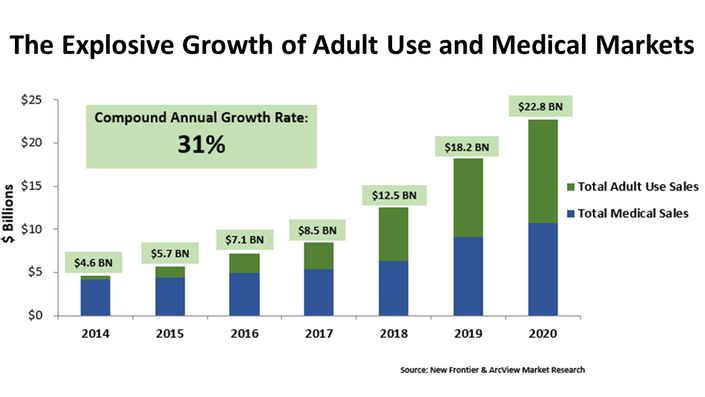 JARVIZ CannaVestor Briefing
Weekly Green Rush Market Updates and Discussion from the J.A.R.V.I.Z. Team
J.A.R.V.I.Z. CannaVestor Briefing is a weekly newsletter that gives its subscribers an almost "unfair" financial advantage over others looking to build generational wealth by investing in the Green Rush.
Here's What You Need To Know…
There are thousands of opportunities that you can invest in in the market and events, trends and changes that develop and change the landscape on an almost daily basis. The problem is: how do you determine what is real and what's fake news; which companies are the movers and shakers and which ones are the fakers.
Understanding the right trend or development can make you A LOT of cash. Following others can be a complete waste of your time. And until recently, the only way to know which ones were worthwhile and which ones were not…was to just go out there, read and research on as many developments and trends as you can, and find out what works for yourself.
It Can Be A Slow And Lengthy Process That Could Take You Days, Weeks, Even Months
But now, thanks to the J.A.R.V.I.Z. CannaVestor Briefing, you'll be told exactly what trends, developments and companies are the hottest out there.
What's more, with the market being so new and regulations changing on a daily basis, if you have the information of what's happening before others know, you could invest in the appropriate areas to follow…before they are in demand
You Would Make A Small Fortune
For example, did you know that last summer, we were discussing and analyzing the impending Mexican Supreme Court Legalizations hearings. With this information, you probably would have acted on some Central American Cannabis investment opportunities and achieved a 100% gain before the general public was even aware of this.
Or, if last Fall, you knew about the impending Farm Bill discussions and the progress of Hemp legalization, you would have been able to act on some under-the-radar CBD Investment opportunities and achieved another 100% gain.
Or, if earlier this year, you had tuned into the discussions we had on the NYSE exchange uplisting of CannTrust, you would have been able to capture up to a 31% gain in under 3 weeks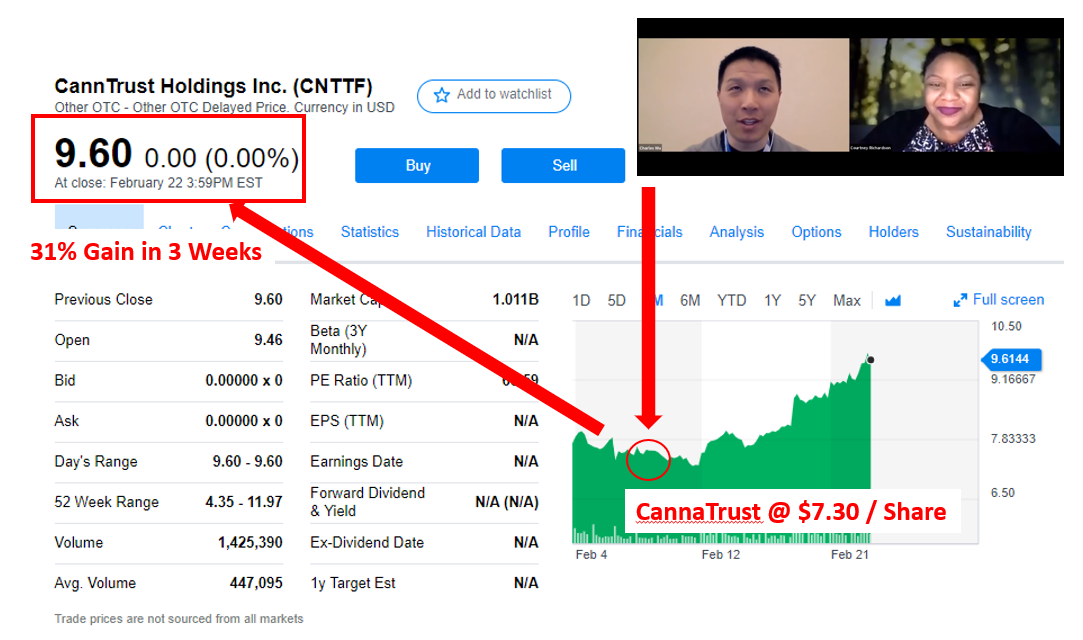 Very few investors know this, but the J.A.R.V.I.Z. team does…and so do the subscribers of the J.A.R.V.I.Z. CannaVestor Briefing. Together, we are making massive returns every month, as a result. And now…
I'd Like To Invite You To Come Join Us
When you subscribe to the J.A.R.V.I.Z. CannaVestor Briefing today, you'll always know where the market is going so that you can catch the right trend and be positioned to be on the receiving end of the wealth creation and money transfer cycle.
Just imagine: there will be no feeling of frustration on your part – no feelings of "I'm missing out on building generational wealth with this."
Having this kind of information at your disposal each week gives you the opportunity to grow your knowledge and investments…steadily…week-by-week. It allows you the freedom to take more time off because your investments will grow faster for the time you do invest
Trust us: this information is critical to your success… and to your future as an investor in the Green Rush.
Here's What You Get When You Accept This Invitation…
Firstly, when you join the J.A.R.V.I.Z. CannaVestor Briefing today, you will immediately be included in our weekly announcement list. This means once a week – for the next 50 weeks – you will receive a brief, easy-to-read email in the morning.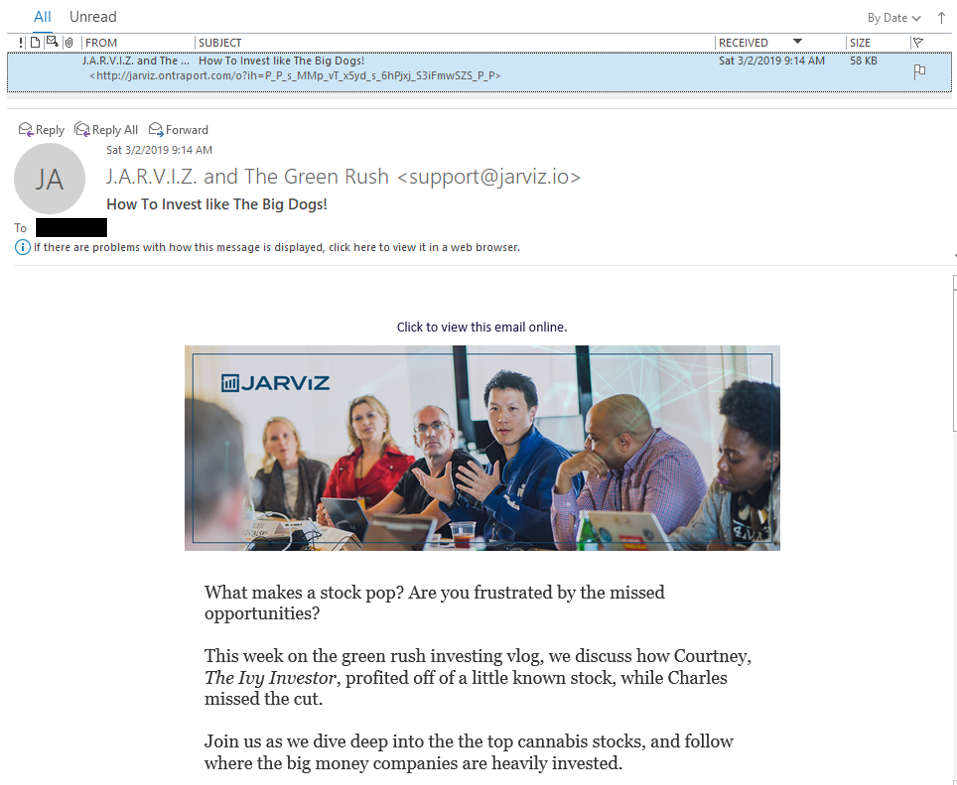 Inside this Email, You Will Discover the Latest and Most Profitable Investment Trends that Are Impacting the Green Rush that Particular Week
What's more, not only will you discover what the hottest trends are in the industry… but…it will also include in-depth analysis and details on which companies we are looking at taking action with in the Green Rush.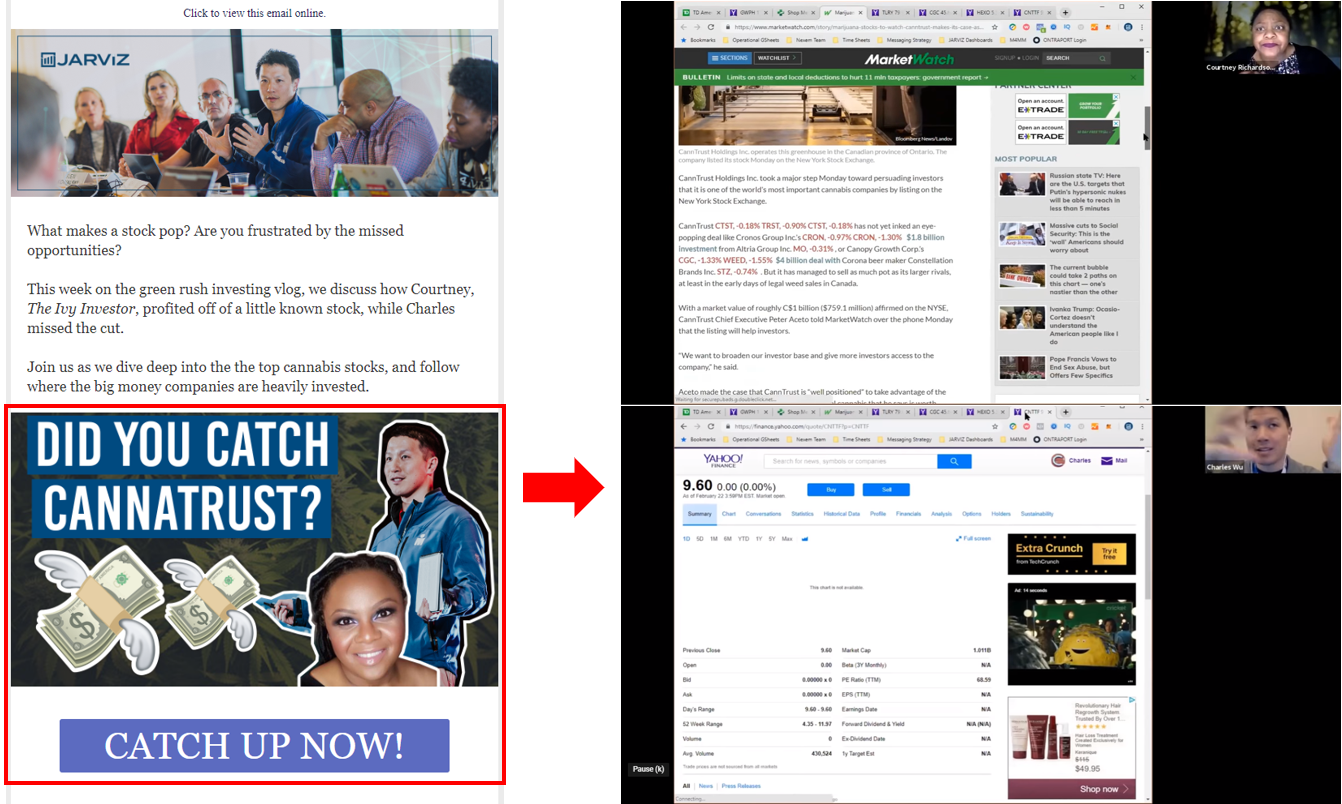 That means you won't have to do any digging, searching around, or investigative work to educate yourself on the hottest trends in the Green Rush. Everything will be handed to you "on a silver platter" so you don't have to do any work whatsoever…except…capitalize on the trends we discuss.
A service like this is easily worth over $999 for a yearly membership. But don't you worry. You're NOT going to have to invest anywhere near that amount to join today. I'll tell you more about this in just a moment.
But for now, I'd like you to also know that when you sign up today…
You Will Receive 3 Valuable Bonus Gifts
Bonus #1: Access to live interactions with our team of experts as they review trends, discuss the latest market developments and analyze opportunities in the Green Rush
At the beginning of the week, you will get the opportunity to interact with members of the J.A.R.V.I.Z. team as discuss the latest topics and trends live in the Green Rush.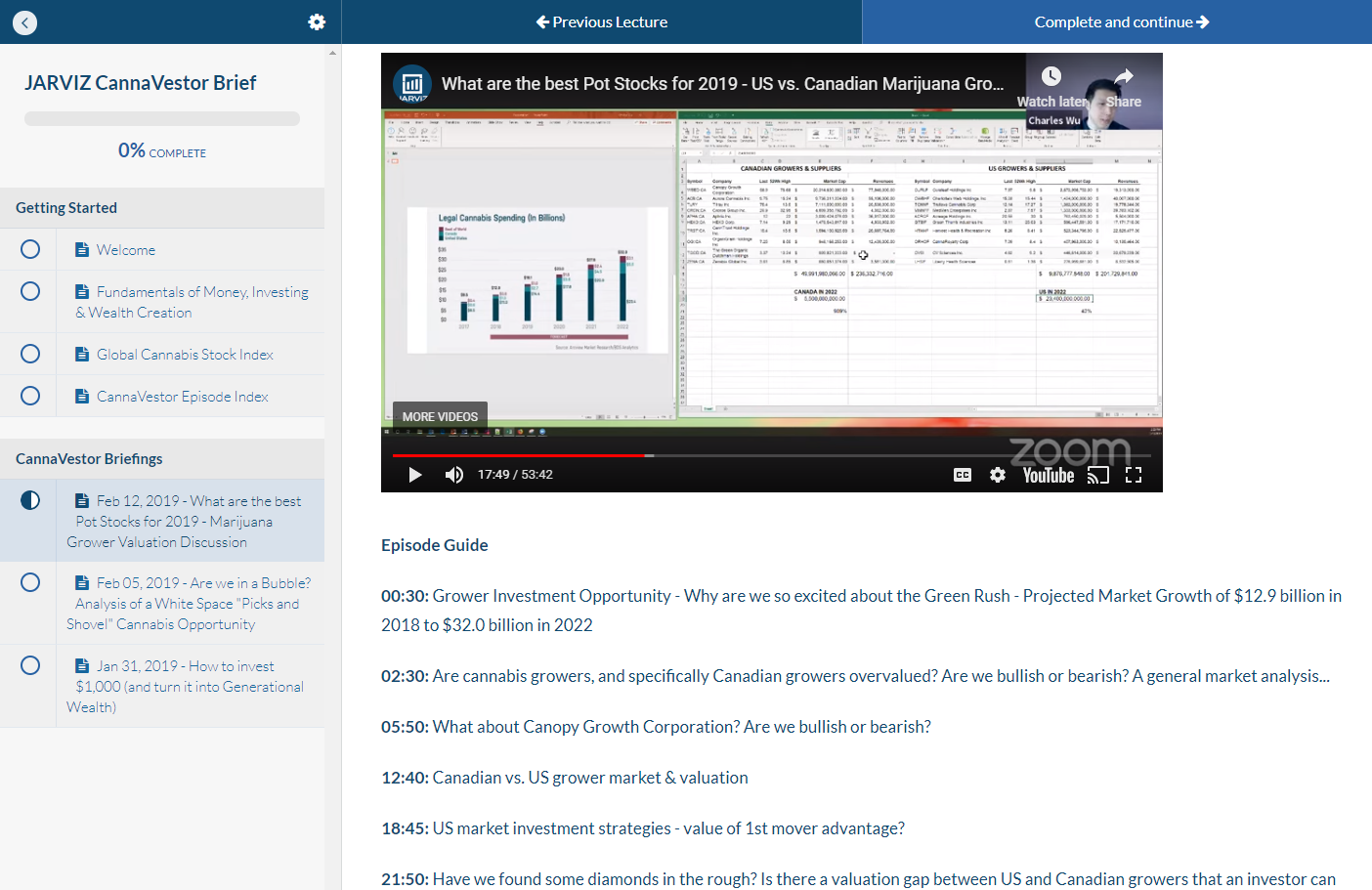 The truth is: this type of access is worth at least $299 (some people would argue that it's worth a lot more) but you get it 100% free when you subscribe to the CannaVestor Briefing right now.
Bonus #2: CannaVestor Briefing Episode Index and Vault
Sometimes, life gets in the way, that prevents you from attending the live show. In case you miss it, the highlights and talking points will be summarized and housed in an online class that is updated weekly and contains a cumulative episode index and vault so that you can reference and review it at your leisure.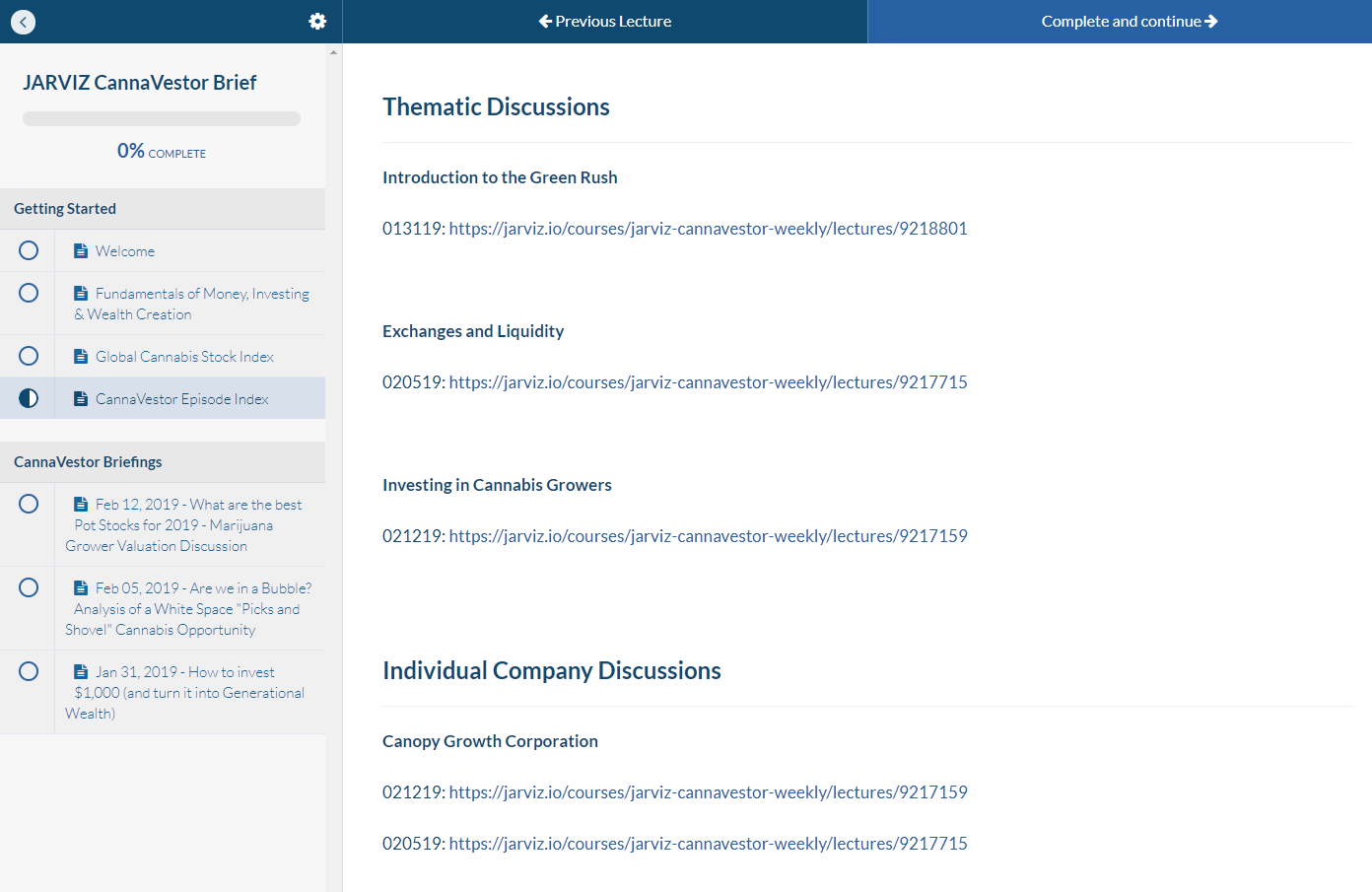 This digital class is worth at least $199. But in all honesty, I could probably sell it for thousands of dollars. After all, what is a couple thousand dollars when compared to the kind of money this information can make you?
The good news is: you're not going to pay thousands of dollars for this. You're not even going to pay $199 for it. Instead, you're going to get it 100% FREE when you subscribe to the CannaVestor Briefing.
Bonus #3: Global Cannabis Stock Index
If you are an especially motivated person…and…you want to take your investing to the next level…then…this was created just for you.
The Green Rush has grown from nothing to becoming a $10 billion dollar industry over the last couple of years, and the smartest investors know that the key to generating massive returns comes from identifying which opportunities to even invest in.
With tens of thousands of publicly traded companies all around the world, just even finding companies to invest that are a part of the Green Rush could take you hundreds of hours.
To help you succeed, we have compiled the Global Cannabis Stock Index that tracks and represents over 40 publicly-traded companies in the medical and legal cannabis market. The companies included are designed to represent the overall market for the entire sector.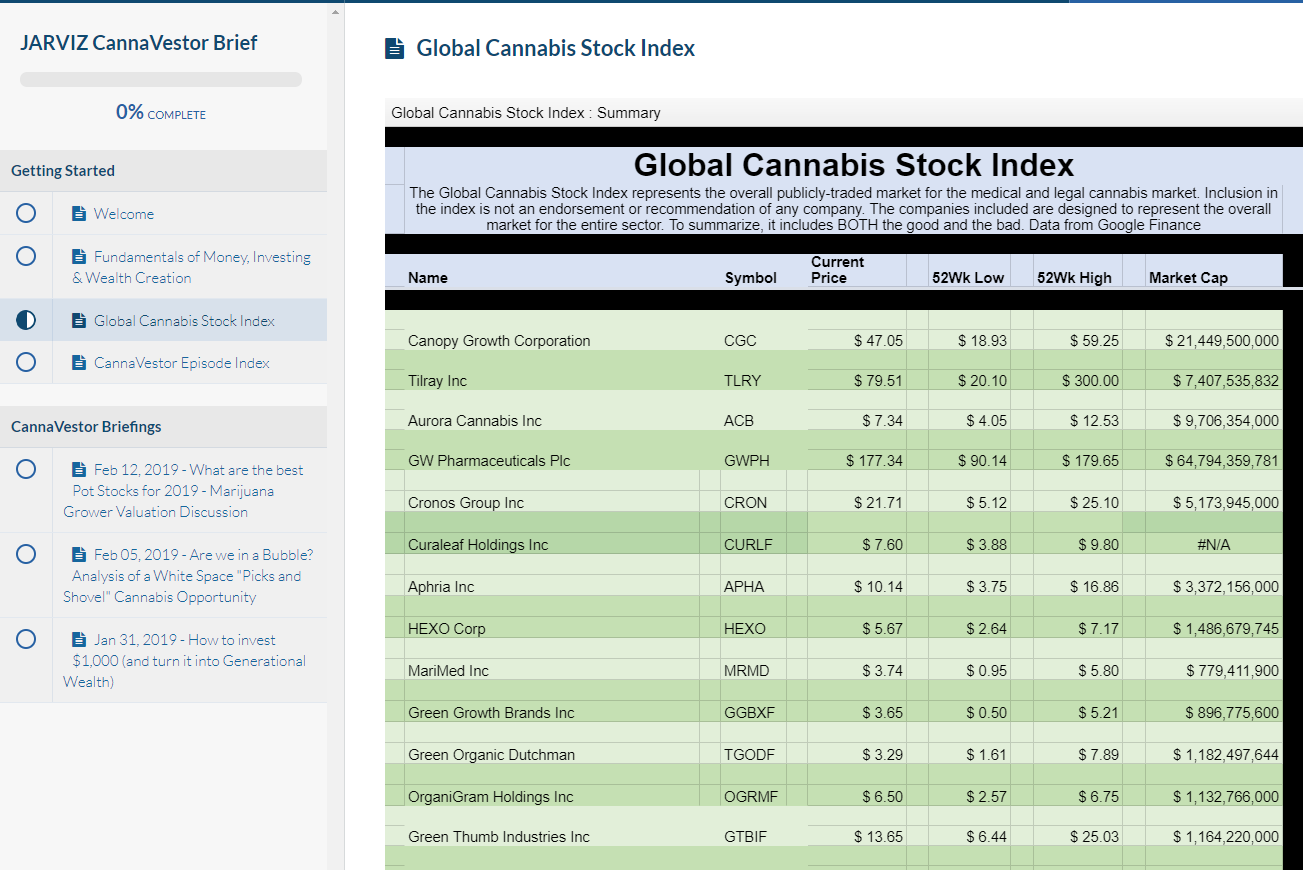 Inclusion in this index is not an endorsement or buy recommendation of any particular company.
Access to this dashboard report, which is updated quarterly, is valued at $99. But it's yours 100% free when you subscribe to the J.A.R.V.I.Z. CannaVestor Briefing right now.
That's $1,596 Worth of Free Gifts and Value
But like we said earlier, you won't have to invest anywhere near that kind of money to get started with this newsletter today.
In fact, a full subscription is just $199 – and not a penny more. That's just $16.58 a month…$3.82 a week…or a tiny 54-cents per day.
It's for nothing
What's more, please understand: this is a one-time investment. There are no hidden fees…no monthly payments…and…no additional costs of any kind. This tiny one-time fee covers your subscription for an entire year.
And when you consider the "edge" this newsletter (and the reports) will give you over other investors in the industry, you'll agree that you simply cannot afford to decline this invitation – not for that kind of money.
Plus, just in case you're wondering, you are completely covered by our full
100% Money Back Guarantee
Here it is: try the J.A.R.V.I.Z. CannaVestor Brief for 30-days. You must be absolutely thrilled with how much knowledge and actionable advice you are getting from us. Otherwise, simply let us know…and…we will immediately refund you every last penny of your investment – no questions asked.
This means you have absolutely nothing to lose by accepting this offer right now.
So don't delay any longer. All you have to do to become a member of the J.A.R.V.I.Z. CannaVestor Briefing is to click the link below…
When you do, a full one-year subscription will be added to your existing enrollment investment – and you will be immediately receiving a class access enrollment email to access all 3 bonuses within the hour.
So don't miss out. I created this service with one mission in mind – to help the members of the Digital Underground understand and get ahead and profit off of the hottest investment trends in the Green Rush, in the least amount of time.
So sign up right now. Don't lose out. Don't be one of those people who lets a good opportunity pass you by, only to wonder "what could have been" later on. The truth is: this newsletter is worth a fortune to the people who are smart enough to see how valuable it really is.
Your Instructor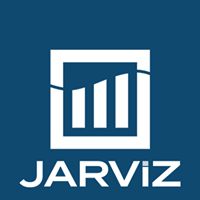 Courses Included with Purchase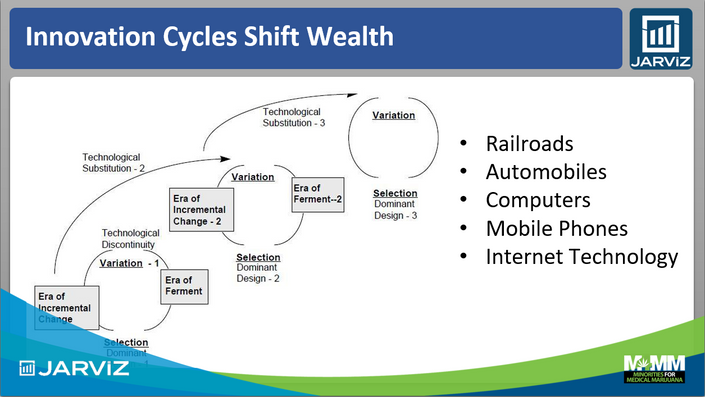 Introduction to Money, Investing & Wealth - 5 Part Series: powered by J.A.R.V.I.Z.
Get started with building Passive Income in the Green Rush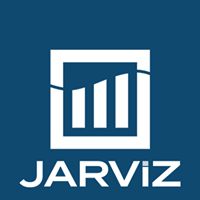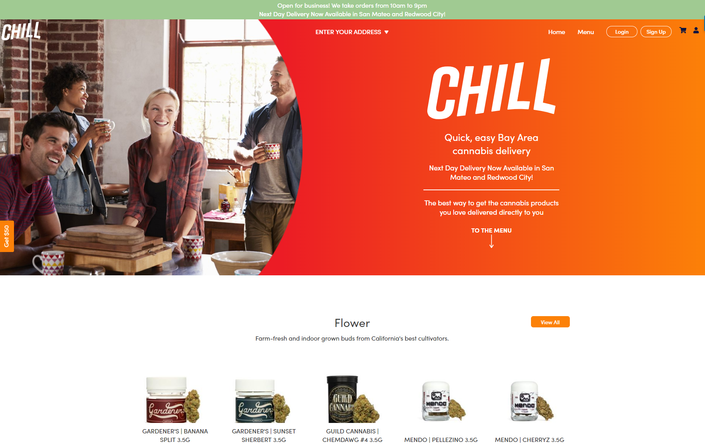 Special Report: the Uber of MJ
Original Price: $0
Frequently Asked Questions
When does the course start and finish?
The course starts now and never ends! It is a completely self-paced online course - you decide when you start and when you finish.
How long do I have access to the course?
How does lifetime access sound? After enrolling, you have unlimited access to this course for as long as you like - across any and all devices you own.
What if I am unhappy with the course?
We would never want you to be unhappy! If you are unsatisfied with your purchase, contact us in the first 30 days and we will give you a full refund.