J.A.R.V.I.Z. CannaVestor Briefing is a weekly newsletter that gives its subscribers an almost "unfair" financial advantage over others looking to build generational wealth by investing in the Green Rush.
Here's What You Need To Know…
There are thousands of opportunities that you can invest in in the market and events, trends and changes that develop and change the landscape on an almost daily basis. The problem is: how do you determine what is real and what's fake news; which companies are the movers and shakers and which ones are the fakers.
Understanding the right trend or development can make you A LOT of cash. Following others can be a complete waste of your time. And until recently, the only way to know which ones were worthwhile and which ones were not…was to just go out there, read and research on as many developments and trends as you can, and find out what works for yourself.
It Can Be A Slow And Lengthy Process That Could Take You Days, Weeks, Even Months
But now, thanks to the J.A.R.V.I.Z. CannaVestor Briefing, you'll be told exactly what trends, developments and companies are the hottest out there.
What's more, with the market being so new and regulations changing on a daily basis, if you have the information of what's happening before others know, you could invest in the appropriate areas to follow…before they are in demand
You Would Make A Small Fortune
For example, did you know that last summer, we were discussing and analyzing the impending Mexican Supreme Court Legalizations hearings. With this information, you probably would have acted on some Central American Cannabis investment opportunities and achieved a 100% gain before the general public was even aware of this.
Or, if last Fall, you knew about the impending Farm Bill discussions and the progress of Hemp legalization, you would have been able to act on some under-the-radar CBD Investment opportunities and achieved another 100% gain.
Or, if earlier this year, you had tuned into the discussions we had on the NYSE exchange uplisting of CannTrust, you would have been able to capture up to a 31% gain in under 3 weeks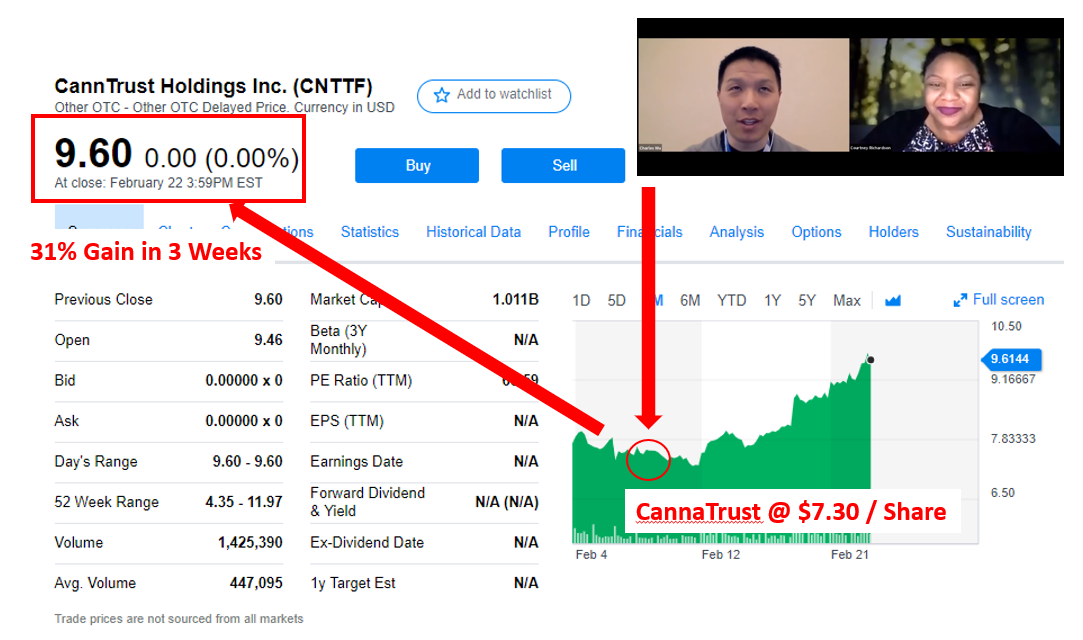 Very few investors know this, but the J.A.R.V.I.Z. team does…and so do the subscribers of the J.A.R.V.I.Z. CannaVestor Briefing. Together, we are making massive returns every month, as a result. And now…
I'd Like To Invite You To Come Join Us
When you subscribe to the J.A.R.V.I.Z. CannaVestor Briefing today, you'll always know where the market is going so that you can catch the right trend and be positioned to be on the receiving end of the wealth creation and money transfer cycle.
Just imagine: there will be no feeling of frustration on your part – no feelings of "I'm missing out on building generational wealth with this."
Having this kind of information at your disposal each week gives you the opportunity to grow your knowledge and investments…steadily…week-by-week. It allows you the freedom to take more time off because your investments will grow faster for the time you do invest
Trust us: this information is critical to your success… and to your future as an investor in the Green Rush.
Here's What You Get When You Accept This Invitation…
Firstly, when you join the J.A.R.V.I.Z. CannaVestor Briefing today, you will immediately be included in our weekly announcement list. This means once a week – for the next 50 weeks – you will receive a brief, easy-to-read email in the morning.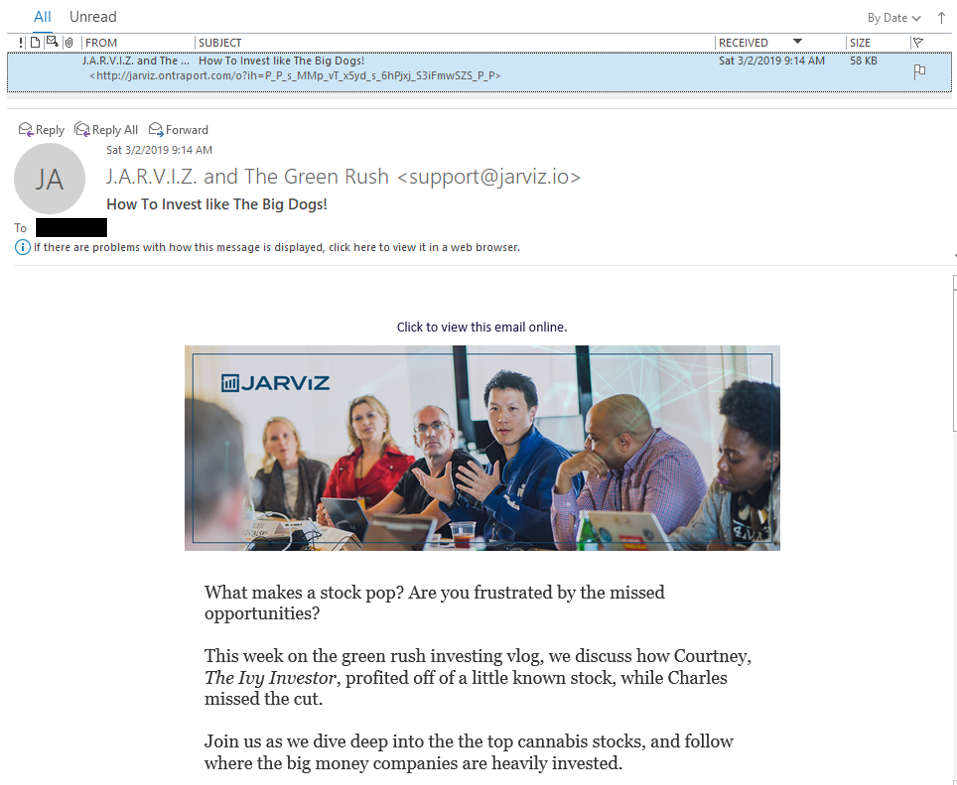 Inside this Email, You Will Discover the Latest and Most Profitable Investment Trends that Are Impacting the Green Rush that Particular Week
What's more, not only will you discover what the hottest trends are in the industry… but…it will also include in-depth analysis and details on which companies we are looking at taking action with in the Green Rush.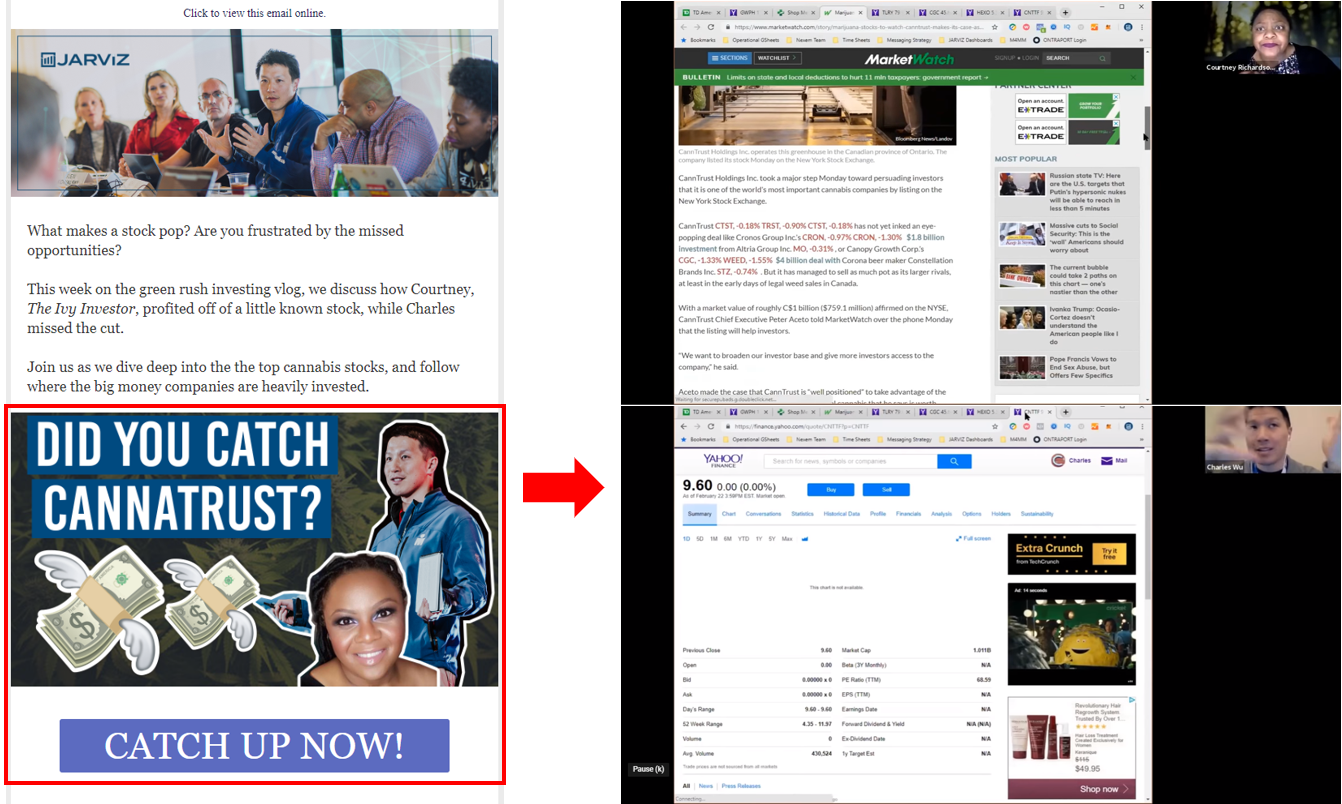 That means you won't have to do any digging, searching around, or investigative work to educate yourself on the hottest trends in the Green Rush. Everything will be handed to you "on a silver platter" so you don't have to do any work whatsoever…except…capitalize on the trends we discuss.
A service like this is easily worth over $999 for a yearly membership. But don't you worry. You're NOT going to have to invest anywhere near that amount to join today. I'll tell you more about this in just a moment.
But for now, I'd like you to also know that when you sign up today…